PowerListings Helps You Get More Business
.video-container {
position: relative;
padding-bottom: 56.25%;
padding-top: 30px; height: 0; overflow: hidden;
}
.video-container iframe,
.video-container object,
.video-container embed {
position: absolute;
top: 0;
left: 0;
width: 100%;
height: 100%;
}
– See more at: http://avexdesigns.com/responsive-youtube-embed/#sthash.HsYThZvH.dpuf
Reach customers in your neighborhood
Our Network has more than 50 local search engines, apps, and mapping sites including Yahoo!, Yelp and Bing. Wherever your customers are searching, they'll find you. Contact us today to get your online listings working for you on these sites and more:



















Save time with one-click updates
Get listed across our Network by entering your information once. Save time and money by using PowerListings to correct and update your listings with one click. Guaranteed accurate and up-to-date business information.
Direct relationships with all our partners ensure accurate listings and updates that happen in the blink of an eye.
Your mobile solution
PowerListings Network includes more than 15 mobile apps so your customers can find your business from wherever and whatever they might be searching from.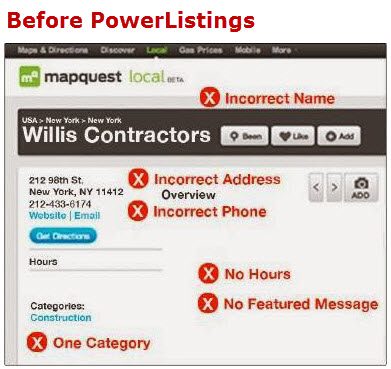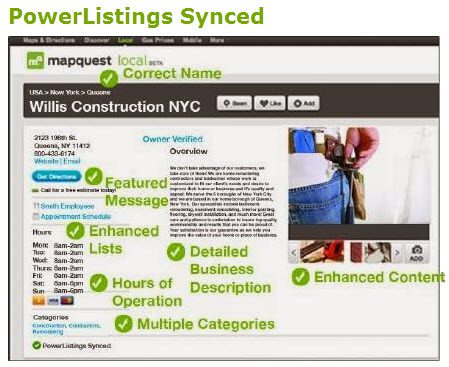 Power Up Your Local Search Results with PowerListings
See customer feedback in real time
Review Monitoring – We actively monitor all your business listings for reviews and automatically update your account about new ones. See all reviews ever published, or monitor reviews from the last 24 hours.
Precision Search – Quickly and easily identify the reviews with specific terms or keywords that matter to you. Our precision search helps you take care of business by understanding customer wants and needs.
Email Review Notifications – Receive an alert email when new reviews are posted to allow timely responses. Set the alert by search criteria to send to central marketing teams or to local store managers.
Stand out from the competition with enhanced listings
Detailed Categories – Add categories to increase traffic. 49% of searches are unbranded. Our technology automatically configures your categories to be compatible with the PowerListings Network.
Photos and Video Uploads – Engaging content like photos and videos significantly increases clicks on your profile. Listings with videos saw 282% more clicks and updated photos had 248% more. PowerListings makes it easy to add and update them instantly.
PowerListings+ Enhanced Content Lists – Much of what's happening at your business location is not represented on your online listing. Add in-store business information like Product/Service Lists, Event Calendars, Staff Bios and Menus to your online listings to give your customers the information they need to choose you over the competition. With the enhanced content it will add tabs on your Facebook business page with the menu, bio's, or whatever enhanced content you choose.
Appear in search results when customers are searching for businesses like yours
Your Business Listing Scan – Scan to see how your business information appears across the 50+ sites in the PowerListings Network before you sign up. Then, check the status of your listings with one click.
Guaranteed Presence – Our technology automatically adds listings and updates critical fields like name, address, phone number and website, across our Network. Change your information anytime and we guarantee your business information will be accurate and up-to-date everywhere.
Track local search performance with full analytics
Advanced Reporting – First-ever available tracking platform for all local
listings traffic to show impact to views and traffic.
Smart Cross-Tab and Filter – See your profile views, search impressions and featured message clicks across days, weeks and month, so you can track the metrics that matter to you.
Call Today to Get Started with PowerListings
Only $199.00 / month